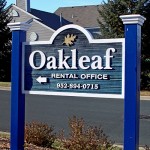 A great sign goes a long way for your business. If you're looking to make a great investment in signage, contact the professionals at American Lighting & Signs LLC. We're the premier source for custom signage in Biloxi, MS, bringing you the ideal signage for your needs. Look to us to design, fabricate, install, maintain and repair your signage—we're an all-in-one partner.
Our business has been crafting beautiful signage since 1987, and we're proud to have a full portfolio on display throughout the area. If you see eye-catching signs in Biloxi, MS, chances are, we made them! We're proud to have helped area businesses big and small make a lasting, beneficial investment in signage.
Our scope of abilities and experience outstrips any other sign maker in the area. From huge pylon signs, to artfully engraved signage, to electronic message centers and beyond—if it's a type of signage, we can make it. And, we'll make sure it's totally customized for your business and the message you're projecting.
For more information about our signage capabilities, contact us today. We welcome inquiries from throughout Biloxi, MS and the nearby surrounding cities and towns. We look forward to working with you on signage that's sure to impress.